Enjoy the good life. Grand Rapids' finest cigars are at Tuttle's!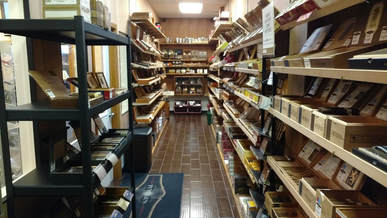 Welcome to Grand Rapids' largest walk-in humidor
Welcome to Tuttle's Select Cigars and Tobaccos, voted Grand Rapids
Magazine's "Best Cigar Shop" in Grand Rapids!
Whether you're a seasoned cigar aficionado or aficionada, or are new to the pleasures of a fine smoke, Tuttle's ensures a top-shelf experience every time you visit. Our friendly, comfortable environment, coupled with the area's largest selection of premium, hand-rolled cigars and pipe tobaccos, guarantees your satisfaction.
So we invite you to stop in. Enjoy a fine cigar in our newly decorated cigar lounge. Or you can buy a quick stick, a bundle, or a box if you're on the run.
Tuttle's is a place you'll visit often... for the finest.
---
Linger over a stogie in our cigar lounge. You'll find many fine choices!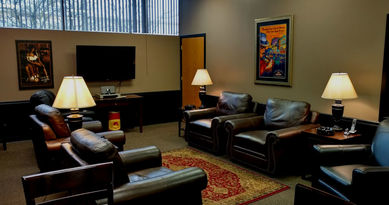 Tuttle's New Lounge
Need to unwind?
Cigars are one of the rewards in life, and Tuttle's is dedicated to providing a friendly and comfortable environment for our patrons to
relax with a fine smoke. Our newly decorated cigar lounge, with ample leather seating and a rich, relaxed "club" feel, is the perfect place to savor a premium, hand-rolled cigar.
Just steps away, you'll find the area'a largest walk-in humidor, perfectly humidified, and it's always stocked with
over 100 brands of fine cigars
ensuring you'll find a favorite to meet your tastes.
---
Tuttle's patrons enjoy our fine cigars often and steady purchases keep our stock rotating.
So to best serve our loyal customers, we frequently inventory our humidors to ensure we
always have what you're looking for - - the best and freshest selection of cigar and tobacco products in the greater Grand Rapids area.
Grab a bundle and go - - our 28th St. location is quick and convenient!
Tuttle's retail area
Tuttle's customers tell us that when they're on the fly, they really
appreciate our
convenient location on 28th St. near East Paris
... and you will, too!
We're in the building next door to the OLIVE GARDEN, making for a quick stop before a round of golf, fishing or sporting event.
---
Upcoming events and special hours. You'll want to make note.

Check back often as more events are being scheduled