Tuttle's Cigars Events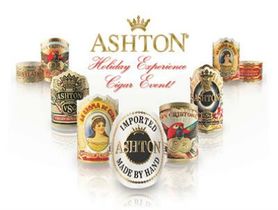 Ashton Holiday Experience Event!
Date: Friday, November 24th, 2017 12PM - 6PM

Save 20% on boxes of your favorite Ashton cigars including
sampler packs ... just in time for holiday giving.

Buy a $10 ticket, get one cigar with a pairing and a $10
credit towards the purchase of any Ashton product.

Buy one sampler or five cigars get one cigar FREE!
Buy five samplers or a box get three cigars FREE!
Buy ten samplers or two boxes get six cigars FREE!

Additional Ashton incentives include branded t-shirts,
tin signs, rocks glasses and desktop humidors




---

Tuttle's Voted Grand Rapids' "Best Cigar Shop"!

In it's January 2017 issue, Grand Rapids Magazine announced that Tuttle's Select Cigars and Tobaccos won title of "Best Cigar Shop" in Grand Rapids for the fourth consecutive year!

Thank you to all who voted for Tuttle's. Robin, Dale and I greatly appreciate your support and continued patronage. We couldn't ask for better customers or a better to start the new year.

---

IMPORTANT NEWS: Premium Cigars and the FDA
The Family Smoking Prevention and Tobacco Control Act proposes to limit your rights by imposing regulation on premium cigars. Did you know that if FDA regulations are expanded to premium cigars, it could:
Ban walk-in humidors, self-serve cigar displays and mail-order/internet cigar sales
Ban all flavored cigars
Deface ornate, decorative cigar boxes with grotesque, graphic images
Ban cigar events with free cigars
Impose additional user fees (taxes) on cigars
Limit the availability of special release and small-batch cigars since all cigars would have to undergo extensive (and expensive) testing and be approved by the FDA
Ban logo cigar merchandise like hats, shirts, jackets, cutters, cases and shopping bag
Only a few minutes of your time can make all the difference; join Tuttle's in support of the
Cigar Rights of America's petition drive.
Add your name to the growing list of signatures, simply follow this link:
http://wh.gov/Qtz
Or if you prefer,
click
here
to visit International Premium Cigar & Pipe Retailers Association (IPCPR) website. There you find a pre-composed letter to email to Senators Levin and Stabenow and Representative Amash. Other valuable links: Cigar Aficionado story
http://bit.ly/HEgsOk
and CRA petition
here
.
Protect your rights by acting now!
Our freedom of choice is being threatened. The impact of these regulations on small cigar shops in Michigan and around the country would be devastating.