The finest of cigar brands and quality smoking accessories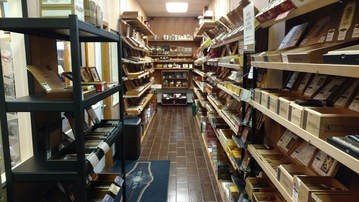 Tuttle's Select Cigars and Tobaccos has
been a noteworthy tobacco retailer since 1994.
And since the very beginning we have specialized in providing the most popular, highest quality cigar brands and tobaccos plus an extensive line of smoking accessories to the greater Grand Rapids area. We are proud knowing that we continue to delight our discerning patronage.


Precise maintenance and frequent stocking of cigar brands
We have the area's largest cedar lined walk-in humidor plus three, free-standing humidors. Our humidors are perfectly maintained, frequently inventoried, and always well-stocked with over 30 premium brands of hand-rolled cigars. Suited to every taste, we offer a range of fine tobacco products in mild, medium and
full bodied.
---
In stock, we have the best brands in the most popular shapes and sizes

Smoking Accessories
We take pride in offering a wide array of branded accessories ranging from
Diamond Crown humidors to logoed golf items. You'll find what you need at Tuttle's!


Handcrafted Humidors


We carry the best from Diamond Crown, Craftsman's Bench and Savoy.
To truly appreciate how these superior humidors will protect your cigar investment, you must see them and experience their quality first-hand.



---

Lighters


A fine lighter is a significant
aspect of an aficionado's
cigar smoking experience.
We carry many fine lighters and styles from the Xikar, and Colibri to include the popular Firebird model.

---

Carrying Cases and Travel Humidors


Top quality leather cigar carrying cases perfectly fit your
suit or jacket pocket,
and travel humidors protect your cigars
when you're away
from home.

Tuttle's offers many sizes and styles by Craftsman's Bench and Cigar Caddy.

---

Cutters


The selection of "cut" is
as individual as each aficionado or aficionada.
We offer a range of cutter brands and types including
guillotine-cut, V-cut and punch... one, or all, of which will suit your style.



---
Branded Ashtrays


Your very fine smokes deserve nothing less than a proper ashtray. Always in stock, we have a variety of heavy, cigar and pipe ashtrays by Avo, Ashton, Macanudo and others.



---

Logoed and Seasonal Items


Hitting the links?

Make Tuttle's your first stop for seasonal
cigar-branded logo items to include golf hats, divot repair tools, ball markers, and Cigar Minders.

And when we run out, that's it for the season ...
no Mulligans on this one!




---